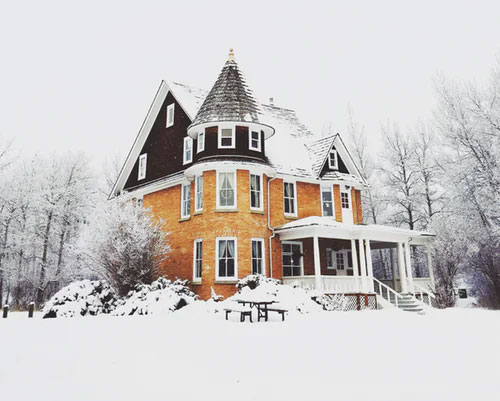 AC, Heating & Furnace Repair and Installation. ETR is nearby when you need us!
Stay warm during the Tyler and Longview's winter months with ETR's expert air conditioning and heating repair and installation specialists.
Winter in East Texas can be a beautiful time of the year. However, at East Texas Refrigeration, we understand that when the winter months arrive, heating your residence is not simply a luxury; it is a necessity. Whether you are needing service for your ac & heating system or seeking emergency heat pump repair for your unit, rest assured, the technicians at ETR have the training and knowledge required to identify your furnace issues quickly. Restoring your home to safe and comfortable temperatures is our top priority.
AC / Heating and Furnace Repair by Trusted HVAC Professionals
Recognized as a leading AC and Heating company in Tyler and Longview, and an HVAC provider for over 40 years, East Texas Refrigeration is a company you can trust. Our service technicians are experts at repairing all makes and models of heating equipment made by the leading manufacturers. We carry most replacement parts in our service vehicles to eliminate delays. We offer flexible scheduling to suit your needs and our technicians are available around the clock 24/7 to handle emergency repairs. Our goal is to get your heating system repaired quickly with the least disruption as possible to your schedule.
Upfront Pricing With No Hidden Costs
At East Texas Refrigeration, we strive to go above and beyond for every one of our valued clients. We pride ourselves in offering honest, upfront and competitive pricing in writing for every service we provide. We offer industry leading warranties and a 100% customer satisfaction guarantee. We charge by the job, not by the hour, so there is never an overtime charge for emergency furnace repair. Before we begin the repair, we explain the problem and outline your options so you can decide how you want to proceed.
How are we able to offer honest, upfront pricing?
We never add on hidden charges or last minute fees
We charge by the job, not by the hour
We price our quality services fairly
We provide prices in writing before we begin any work
Why Isn't My Furnace Working?
Heating systems are complicated, and when one component malfunctions, it can easily affect the entire unit. Some of the common reasons our clients contact ETR for emergency furnace repair:
The furnace won't turn on.
The pilot light is out.
Unusual noises from the furnace are heard during startup or operation.
The main burner will not light or will not stay lit.
The blower does not turn on after the burners are lit.
The furnace blower remains on constantly.
These problems are symptoms of an underlying cause. Our technicians want to make sure you understand the cause and how we can help:
No power to the furnace– If the fan doesn't respond to raising the thermostat's temperature, a breaker may have tripped, the wiring could be loose, or the furnace switch might be turned off. More complicated problems include trouble with the transformer, thermostat, control board, run capacitor, or blower motor. We will perform a specialized diagnostic test to locate the exact problem and come up with a solution.
Failing motor– If a motor is about to fail, you might be able to hear squeaks or other unusual sounds. Immediate attention from a technician is required to save the furnace from breaking down.
No ignition– If your furnace has a spark ignition, rapid clicking sounds indicate that the burner is trying to ignite. Failure to light could be caused by a blocked flue, faulty control board, or improper limit control. Replacing or repairing these parts should correct the problem.
Issues with the run capacitor or motor– These problems cause the blower not to turn on after the burners ignite.
Main burner problems– Burners that won't stay lit are commonly caused by dirty flame sensors or—in condensing furnaces—clogged condensation drains. If the burners won't light at all, the gas supply could be cut off. Cleaning key components and making a few adjustments may be all that is required from our technicians
Clogged air filter– If your thermostat isn't set to "on," which keeps the blower motor on all the time, a clogged air filter is one of the most common causes of a blower motor running continuously. The restricted airflow may have damaged the limit switch, which senses the internal furnace temperature. We will replace the switch and pinpoint the cause of the problem. If a clogged filter is the cause, your technician will show you how to change your air filter.
ETR is licensed, insured, and bonded. We are proud of and work hard to maintain our A+ Rating with the Better Business Bureau. Our Certified EPA HVAC technicians have received extensive training in furnace repair, installation, and replacement. Since we guarantee our work, you can rest assured that we will complete your furnace repair thoroughly and professionally the first time around. You can have peace of mind knowing competent, professional, and courteous help is just a phone call away at East Texas Refrigeration.