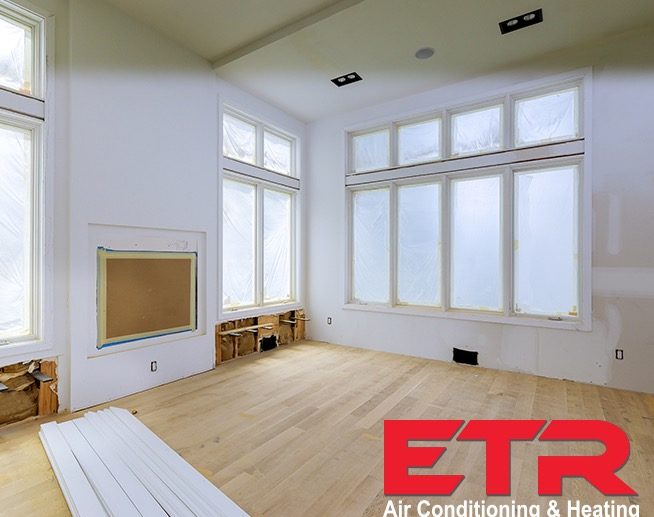 As professional HVAC technicians experienced in air conditioner installation and repair, East Texas Refrigeration in Tyler, Texas, understands how damaging home renovation projects can be to HVAC systems.
Whether it's an older home or a new home, home renovation causes dust, wood particles, sheetrock dust, and more that can be harmful to you, your air quality, and heating and air systems.
You want your home renovation to go as smoothly as possible. You especially don't want to finish the construction project and suddenly have to deal with HVAC problems. Home renovations are challenging and stressful enough. And your HVAC system is crucial to living comfortably in your home.
Luckily, taking preventative measures can go a long way to preventing harm.
Start thinking about protecting your HVAC systems in the planning stages of your home renovation. Talk to your builder or contractor about how to protect your HVAC system during construction. They're the experts you trusted with your construction project, and they can offer advice and expertise. However, you know your home the best, and it's good to go over everything yourself as well.
And there's a lot you can do yourself. Find inexpensive dust covers at your local hardware store and install them before your renovation begins. Cover your HVAC units with plastic or even a tarp. Covering the units as well as the vents is important to keep everything working correctly. Don't forget to take the covers off when you use them.
Take time to close and cover all your registers. Don't forget about that one under the bed! It's also good to invest in vent protectors. These seemingly small preventative measures go a long way in keeping your HVAC systems clean.
As the construction work progresses, take time to clean regularly. This helps keep dust and debris from accumulating and makes the final cleanup much faster and easier.
Depending on the size of your renovation, it might be a good idea to consider replacing or upgrading an air conditioner or the whole HVAC system. Especially if your house isn't new, a new ac system in an older home can make a big difference.
This is especially important to consider if your project is increasing the size of your living space. In this case, it might be necessary to have a bigger system. Especially with your air conditioning unit, it's important to make sure it's big enough to keep your home cool and comfortable.
Consider the season when planning for your building project. The time of year you're working is an important element to consider. Will it be summer or winter? Will it be necessary to use your heating or cooling system during the renovation? These details matter. The general rule is that it's better to turn your systems off during a building project. Which makes the time of year important, as you don't want to be without your AC unit in the middle of a hot Texas summer.
If you do need to run your units, pick which vents you need most. Cover the ones you're not using, and whenever possible, keep the others closed.
Check and change your filters often. The filters in both your furnace and AC can quickly become clogged during a renovation project. This can lead to your systems not running properly and even breaking down. It's much cheaper and easier to change a filter than replace a system.
If your project involves cutting wood or tile, depending on the weather, of course, take the work outside. This seems like a little thing, but it can make a huge difference when it comes to protecting your HVAC systems.
One of the main things that clogs ducts, vents, and the systems themselves during home construction projects is wood dust. It's dense and doesn't break down, making it a problem; it's easier to prevent than fix.
Even though you've used all the preventative measures we listed above, it's still a good idea to get your units, ducts, and vents cleaned after the job is completed.
If it's too late and your HVAC system has been damaged by dust and debris from a home renovation project, we've got you covered.
Our 24/7 emergency service, AC service, and diagnostic services are here for you. Whether it's your thermostat, furnace, or AC unit, we'll make sure you don't have to suffer.