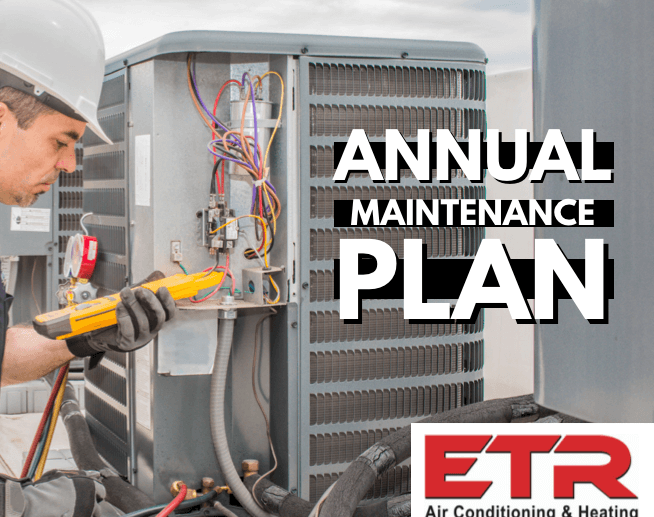 "I'll just do it next spring," we too often tell ourselves this when it comes to having our HVAC units serviced. As a trusted community business, East Texas Refrigeration in Tyler, Texas, knows that HVAC maintenance is something that many people frequently put off doing.
Unfortunately, that can mean expensive repairs later or even having to replace a heating or cooling unit.
The good news is, your local HVAC technicians can help.
We recommend scheduling two seasonal services. Once in the fall, before turning on your furnace. And once in the spring, before turning on your air conditioner.
These services are also helpful preventative steps. Having an expert perform air conditioner and furnace maintenance means they might catch something before it becomes a bigger, more expensive issue.
You can keep your air conditioner and furnace running smoothly in between services by doing some routine maintenance on your own.
Some businesses, such as ETR, offer an Energy Savings Agreement. This is an excellent savings plan that helps you save money while keeping your HVAC systems in the best working order. Signing up for an ESA means you receive priority maintenance service.
A few other benefits of signing up for an Energy Savings Agreement are: no overtime fees, special pricing for new equipment for ESA clients, the money and energy savings benefits that come from having your systems running as efficiently as possible, and giving your heating and cooling units a longer life cycle.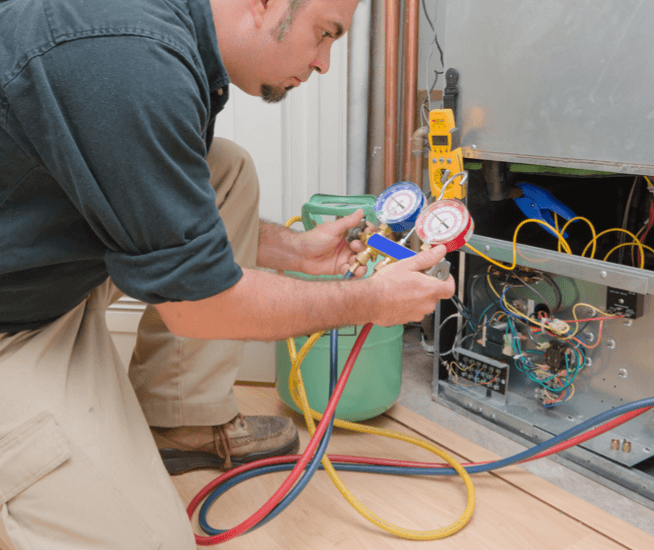 When completing a professional HVAC service job, your technician will check and clean your air conditioner's drains or drip pan. This is something you can and should check on your own, as it's a place that mildew and mold can potentially grow.
They will also look at and clean and often replace the air filter. This is something else you can and should do yourself. Especially if you have pets or live in areas with heavy dust and/or pollen.
The technician will clean and check over your AC unit's coils as well.
They will also look at the safety controls, refrigerant, and temperature differentiation.
When they're done with their inspection and cleaning of the interior, the technician will turn on and off the unit to ensure it's functioning properly.
When a technician looks over your heating unit, they'll check the heating mode, heat pump, backup heating source, defrost cycle, ignition, and heat exchanger.
They will also test the vents, gas pressure and piping, and the clearances.
The technician should also test the thermostat and ensure that it's properly calibrated.
The technician will look over all the connectors and hoses for both units to ensure each one is functioning as it should and isn't loose or disconnected.
This is also something you can check yourself, especially if you're having problems with your HVAC unit.
While it's important to have your HVAC units serviced seasonally, you can save a lot of money by checking and maintaining some things yourself.
Here are a few ways you can save yourself money when it comes to your HVAC systems.
Whether it's your furnace ductwork or air conditioner ductwork, make sure you take the time to have it insulated. You might be losing a lot of heat or cool energy through exposed ductwork. Insulation will help ensure you're not losing energy and money.
In the hot months, close your shades during the warmest, sunniest parts of the day. This helps keep your home cooler, so your AC runs less.
You can also try to avoid using your dryer or oven during the hottest parts of the day. These small things can significantly raise your home's interior temperature and cause your AC to run harder and longer, raising your energy bill too.
Adjust your thermostat a few degrees higher or lower in summer and winter. Just that little adjustment can make a big difference on your energy bill and save you money.
Always keep the areas around your HVAC systems clear. Clutter, trees/bushes, furniture, etc., can affect how efficiently your units work. Make sure there's a clear area around any and all units.
HVAC systems and their maintenance are known to be expensive. But they don't have to be. Call your local HVAC business and see if they offer an Energy Savings Plan.
Schedule your seasonal service.
And perform routine maintenance yourself.
These simple steps will keep your HVAC systems up and running and save you money.