Does your house get very cold during the winter? Would you like to improve your home insulation?
If your home isn't getting warm enough even though your heating system is performing well, it is probably because the insulation isn't good enough. Bad insulation will result in leakage of most of the heat. If your home is well insulated your heating system will have to work less leading to a decrease in consumption of resources which will not only decrease your heating expenses, but will also be good for the environment.
So learn how to improve your home insulation today by reading the below tips…
1. Check your current insulation:
The first step to good home insulation is to check your home's current state. See what type of material is insulated in the wall by looking through any patched up holes in it. You could use a thermal imaging camera if you don't have any holes. Asbestos (carcinogenic) and urea-formaldehyde are two outdated types of insulation material. If these have been installed in your walls, then you definitely need to replace them with more modern and better material.
Instead of just checking the walls, assess other parts of your house like the windows, fireplace, chimneys, doors and the roof. Give the roof the most importance as heat rises up. If the roof can't contain the heat, it will definitely escape.
2. Get help: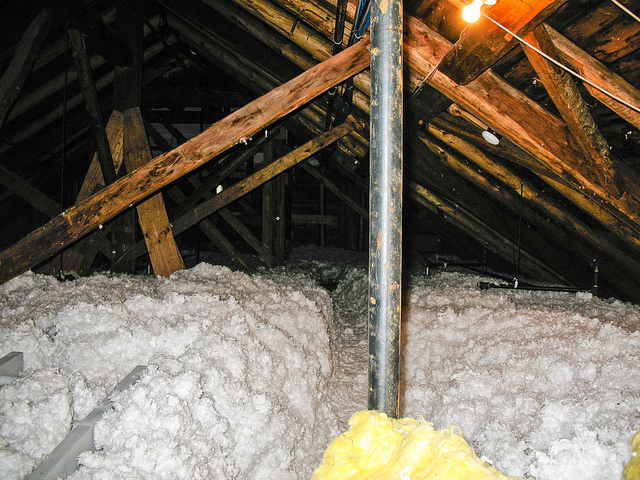 If you have no idea how to perform the above steps or would just prefer if a professional would take a look, then contact one. A good expert like a builder can assess and let you know what is causing the air to leak out and which parts of the house need to be insulated. Just make sure you take great care in finding the right person. You don't want to end up hiring someone who will do more harm than good.
3. Decide on the right insulation material:
There are so many modern insulation choices available. Take a look at your needs and speak to an expert and then decide on one. Glass fibre, cotton and plastic foam are all great options.
What steps would you take to improve your home insulation? Please leave your comments below.
Image Credit: Bret and Sue Coulstock Flickr (1) and Bill Smith Flickr (2)