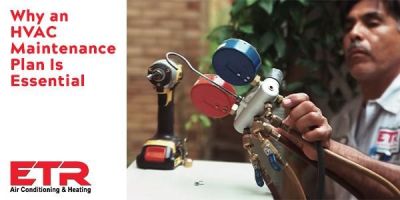 Why an HVAC Service Maintenance Plan Is Essential
For any homeowner or business that relies on a heating, ventilation, and air conditioning system to ensure the comfort and clean air, a professional HVAC maintenance program is essential. Your HVAC system is an investment, and proper upkeep can help make it last.
Among the many benefits from an HVAC maintenance agreement are saving money through lower electrical, heating, and cooling costs. A well-maintained system functions at a higher level of efficiency than does a system that is neglected or in need of repair.
Four major advantages of having an HVAC maintenance agreement include:
You may see significant savings on major repairs as well as on entire system replacements when the time comes.
Improved air quality since an unmaintained HVAC unit will likely harbor elevated levels of mold and harmful bacteria.
A properly maintained system will last much longer than one that is ignored and neglected until a problem should arise.
Less need for any emergency air conditioner repair or heating repair during peak cooling and heating seasons. Emergency repairs will often cost significantly more during peak seasons than they would if detected in off-season periods.
Just What is an HVAC Maintenance Agreement?
Just like all complex mechanical and electrical equipment, heating, cooling, and ventilation systems require routine inspection and regular maintenance to keep all system components functioning reliably and efficiently. The term "HVAC maintenance agreement" normally refers to an ongoing agreement between a homeowner or a business and a local air conditioning and heating service company for specified services. These services are performed at specified intervals for a set annual or monthly fee. Additional benefits are often an included agreement component. The specified services can consist of:
A complete AC system check
Testing and inspection of various system components including air delivery ductwork
Regular air conditioning and heating system routine maintenance/li>
Receiving a higher priority for needed service calls and emergency service
Significant discounts on service calls, any required replacement parts, and even on complete new system purchases and installation
The specified intervals for agreement performance can vary from as little as annually to as frequently as quarterly or even monthly in certain situations. Twice a year is the most common interval seen with inspections and maintenance. These services usually occur before the two heaviest seasons for heating and air conditioning. Those two being Summer and Winter.
What Items Are Commonly Included in an HVAC Maintenance Agreement?
All HVAC maintenance agreements are different, and while no two are exactly the same, there are several features common to most. A twice-yearly regular system inspection is standard and will typically include:
Confirming proper thermostat operation
Testing condensate drains for proper operation
Testing both heating and cooling system output temperature
Performing a carbon monoxide check
Checking refrigerant levels and testing for any leaks
Inspecting the coils
Confirming the proper operation of all safety devices
Frequently, routine maintenance is included and may involve such items as cleaning condensation drains, cleaning evaporator coils, replacing any air conditioner filters or heating system filters as needed, and cleaning any accumulated debris from around the outside unit.
Benefits and Discounts!
Many HVAC maintenance agreements also include additional benefits and discounts for the participating homeowner or business. These may include:
Receiving priority service when needed
Reduced costs for service calls and any required system diagnostics
Reduced or a waiver of overtime charges when applicable
Flat percentage discounts on any needed system repairs
Special pricing or discounts for any new equipment such as a new air conditioner, and for a new AC system installation
Extended parts and labor warranties and special financing offers are also sometimes seen.
A Good HVAC Maintenance Agreement Should More Than Pay for Itself!
The main reason that many homeowners and business give for not purchasing an HVAC service contract is the cost. Plans vary and can range anywhere from as little as $100 or less a year upwards to $500 a year. Cost factors depend on specific services and benefits offered. However, an HVAC service maintenance agreement can easily pay for itself over time.
In many cases, it will actually save you significant money along with the various avoided headaches and surprises it prevents. Not only should you save money on ongoing energy costs in the form of lower utility bills, but all of your system components should last longer. Problems can be discovered and corrected early before they grow into more extensive and expensive repairs.
Safety Should Always Be Your First Consideration
As in most matters, safety should be your top priority when it comes to the HVAC system in your home or office. An HVAC service maintenance agreement can go a long way in addressing the potential dangers and risks you are exposed to from any technology involving electricity, natural gas, and various hazardous chemical substances. Periodic inspection and routine maintenance can often identify potential hazards such as:
Dangerous carbon monoxide or refrigerant leaks
Improper electrical wiring
Faulty natural gas furnace connections before they can cause serious health issues or expensive property damage.
Faulty safety devices
When purchasing an HVAC maintenance agreement, consider the reputation and expertise of the HVAC company you are contracting with. Choose an HVAC company that is knowledgeable in specialized testing utilizing technologically advanced diagnostic equipment. Inquire about the technical personnel who will be performing the HVAC services. Are they trained in the most up-to-date technologies? Providing proper service support for the maintenance and operation of your HVAC equipment is essential to ensure that you receive the maximum potential benefits from your agreement
A good HVAC company will check to see if an equipment or labor warranty might still be in place for your current equipment, and they might even provide you with a few useful money-saving tips!
Choose your HVAC maintenance agreement with a company that employees highly trained and responsive technicians such as those from East Texas Refrigeration (ETR) Heating and Air Conditioning. ETR serves Tyler, Texas, along with Longview, and greater East Texas. At East Texas Refrigeration, we offer convenient, online service call scheduling, same day service, next day change-outs, and the highest customer service in the industry!
We pride ourselves with offering industry-leading, Tyler built Trane AC systems plus Texas made duct type and split system air conditioners from Daikin. ETR will ensure that you not only save money and energy but that you also have confidence in your system and the security and peace of mind that confidence can provide.