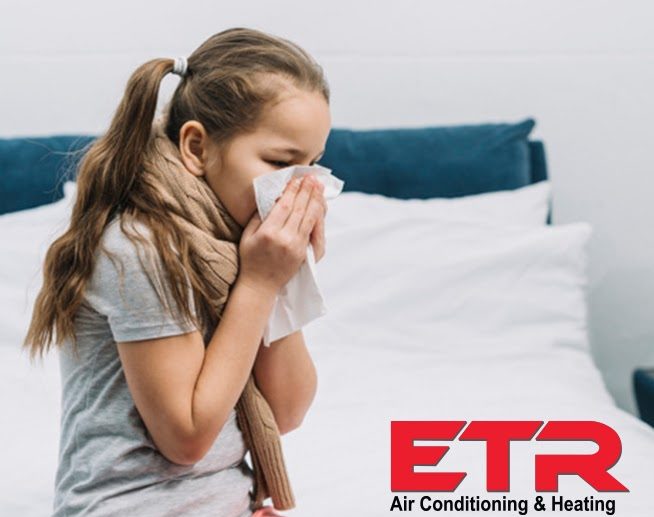 Natural allergens occur in our homes daily. Often they go unnoticed, but sometimes, the lack of air quality can make us sick. Outside pollutants, dust, dust mites, pets, mold, mildew, etc. all can cause irritants that range from mild symptoms to severe allergic reactions. They can even cause you to develop allergies. Some allergy symptoms range from headaches, cold-like symptoms, and worsening of asthma and other illnesses.
Removing the cause of allergens can be as effective, if not more so, than using allergy medications.
Sometimes the symptoms are a warning sign. If you're able to make changes in your home, you can sometimes avoid doctor's visits and medication or keep a precondition from getting worse.
East Texas Refrigeration, located in Tyler, Texas, specializes in all your HVAC needs. Our technicians know the importance of air quality. We're about more than refrigeration, heating repair, and AC system installation. We understand that clean air is necessary for good quality of living.
Here are some preventative ways you can reduce allergens in your home:
Clean Those Places You've Been Avoiding!
It's a dirty job, but someone's got to do it. A large part of poor air quality can be avoided by cleaning those hard to reach places you've put off taking care of. Now is the time!
Check and clean your vents and ductwork. If they're full of dust and mold, you're continually circulating it back into the house.
time to get down on the floor: The corners of rooms and molding can often grow mold and mildew that gets missed on daily cleanings. Make sure to deep clean those hard to reach places.
Clean and ensure there's ventilation in crawl spaces, under sinks, the backs of closets, and cabinets. These are prime locations for cockroaches, mice, mold/mildew, and dust. You know you've been meaning to get them cleaned. Allergy prevention is an excellent reason!
Keep your Household Heating and Cooling Systems Clean and Serviced
Whether you're heating with natural gas or a blow air furnace system, it's crucial to have a professional check your system regularly. Keep the vents and air filters clean and follow the manual's instructions in terms of necessary changing.
Keep your air conditioner filters clean and changed regularly.
Have a technician regularly clean and service your air conditioner, as air conditioning is a major focus for household allergens such as mold/mildew and dust to build up.
Time to Tidy Up!
 The average person spends over twelve hours a day in the bedroom. It can be even more for children. Keeping bedrooms clean goes a long way in allergy prevention. Time to clean up the clutter!
Dust and dust mites, along with pet hair, collect in areas that are cluttered with clothes, stuffed animals, etc. Eliminating those spaces makes it easier to clean, and keeps the allergens from accumulating. Time to clear out under the bed!
Use a vacuum with a HEPA filter. They're made to trap allergen particles. Other vacuums often miss the finer pieces and even blow more dust into the air.
Wash it All (If possible)
Dust mites and other allergens can collect in everything from curtains, to bedsheets, to stuffed animals. Regular washing and general household cleaning can make a big difference.
Routinely wash curtains, furnishings, sheets, pillowcases/covers, and blankets. If possible, wash stuffed animals as well. If that's not a possibility, one technique for getting rid of dust mites in items like stuffed animals is to put them in the freezer for 24-48 hours.
Many curtains/blinds/window treatments are difficult to clean. Consider switching to curtains that are machine washable.
Bathrooms are prime places for mold to grow. Regular cleaning helps a lot, paying special attention to places that retain moisture. Seal up areas around the sink, toilet, and bathtub that collect water, as they're key places for mold and mildew to grow.
A Few Other Steps to Take:
If it's an option, remove carpet and replace it with easier to clean tile, linoleum, or hardwood. If that's not an option, make sure to vacuum and shampoo your carpets regularly.
Replace damp places (floors, countertops, bathroom sink areas, etc.) where there's extra moisture that could grow mold or mildew.
Replace old flooring.
Make sure all rooms are ventilated—use a dehumidifier if necessary. This includes storage areas and garages attached to the house.
Purchase an air testing kit. This will give you a better idea of the levels of allergens caused by dust, mold, dust mites, cockroaches, and pets. Knowing these levels can help pinpoint where you need to focus your attention.
Purchase an air purifier—and make sure to check and change the filters!
So much of the irritation, sickness, discomfort, pain, and other symptoms of allergies can be avoided through preventative measures. East Texas Refrigeration's highly trained and experienced HVAC technicians are here to serve all your heating and cooling needs and will evaluate areas of your home that might be causing illness and allergies. Once located, we will work together to eliminate the problem.
At East Texas Refrigeration, we take pride in our work, especially because we understand the crucial role HVAC plays in your day to day comfort and wellness. Preventative measures such as those detailed above can make a big difference in limiting the impact of air-born allergies caused by household contaminants such as dust, mold, and pet dander.
Talk to one of our experienced staff to see other ways you can reduce allergens in your home today.
Air quality means health and peace of mind.