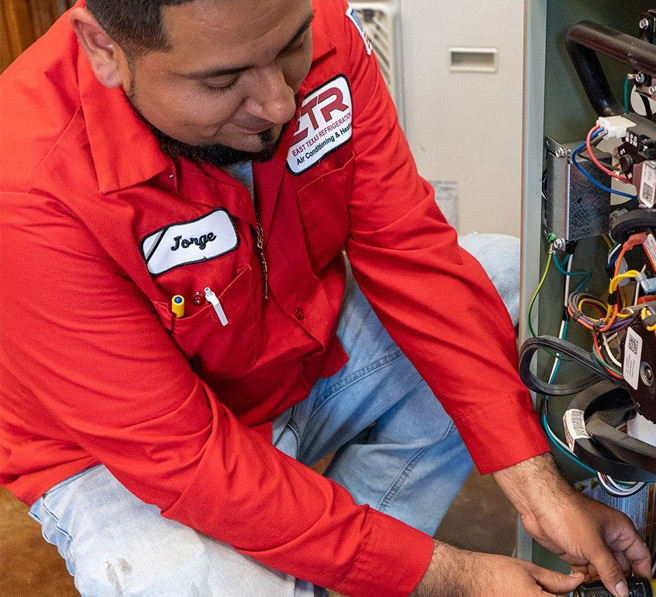 Looking for expert AC Repair?
When a problem arises with your air conditioning system, and you're in need of AC repair in Tyler or Longview, it's best to call a local HVAC professional right away. Delaying your AC service can lead to the need for more extensive and costly HVAC repairs down the road.
When it's extremely hot out, not having a working air conditioner is simply not an option. This is especially true for households with elderly adults, small children, and/or pets.
Finding a local AC repair company you can trust and rely on is imperative during the Texas heat. Since 1977, the specialists at ETR have been providing families welcome relief from the Texas heat and humidity.
Local Air Conditioning AC Repair and Installation Services with Over 40 Years Experience
East Texas Refrigeration is second-to-none when it comes to air conditioning repair and A/C installation in Tyler, Longview, and the greater East Texas area. We have more than 40 years of experience keeping our customers comfortable when the Texas temperatures begin to climb. Our factory trained and EPA Certified technicians are experts at repairing all makes and models of air conditioning equipment made by the leading manufacturers and pride themselves on providing excellent customer service for all of our residential and commercial clients.
ETR Is Here to Help With Your AC Repair. Any Time of Day or Night Throughout the Tyler, Longview, and Greater East Texas area.
It seems to happen without fail—just as the east Texas days become longer and hotter, your air conditioner stops working. Whether it's the middle of a warm July night, a scorching Saturday in August, or even Labor Day Weekend, being without air conditioning is never pleasant.
A few of the most common AC repair issues:
Bad Capacitor.
Low Refrigerant.
Clogged Condensate Drain Line.
Failing Blower Motor.
Thermostat repair/ change outs
At ETR, we understand that you can't predict when an emergency air conditioning situation might arise, which is why we are ready to assist you with emergency A/C services at any time of day or night, including weekends and holidays.
Additionally, in most cases, we provide same-day service for routine service requests.
Upfront Pricing for Air Conditioner AC Repair, Installation, and Service With No Hidden Costs - EVER
At East Texas Refrigeration, we strive to go above and beyond for every one of our valued clients.  We offer the best East Texas AC Repair and new HVAC system installation to our clients. We pride ourselves in offering honest, upfront and competitive pricing in writing for every service we provide. We offer industry leading warranties and a 100% customer satisfaction guarantee.
We charge by the job, not by the hour, so there is never an overtime charge for emergency A/C repair. Before we begin any repair, we explain the problem and review your options, so you can decide how you want to proceed.
How to Tell If You Have an Air Conditioner Emergency
If you are dealing with an A/C issue, but you're not sure if you need a professional technician, there are a few simple ways you can tell whether or not you truly have an air conditioning emergency.
First, check to make sure that the unit is plugged in, that the power is on, and that the thermostat is set to the correct temperature. If your A/C still doesn't turn on or isn't blowing cold air, it might be time to contact one of our skilled professional at East Texas Refrigeration who can diagnose the issue and get to work making the necessary repairs or replacements. We are here to help if you are experiencing any of the following:
A burning smell – This could indicate that an electrical component has overheated and may have melted.
Loud, unusual noises, including screeching – This could either mean that a fan belt has become loose or that the compressor is operating at a too-high pressure level.
Lessened air flow, no air flow, or lack of cool air – There are a number of reasons this can occur, including a clogged filter. If there's no obvious reason for little or no air, give us a call.
If you notice any problematic issues with your A/C, shut off the system right away and contact one of our certified technicians.
ETR is licensed, insured, and bonded and we are proud of our ongoing A+ Rating with the Better Business Bureau. Our Certified EPA HVAC technicians have received extensive training in HVAC repair, installation, and replacement. Since we guarantee our work, you can rest assured that we will complete your air conditioner repair thoroughly and professionally the first time around. You can have peace of mind knowing competent, professional, and courteous help is just a phone call away at East Texas Refrigeration. We're ready to assist you 24 hours a day, 7 days a week with expert A/C services.