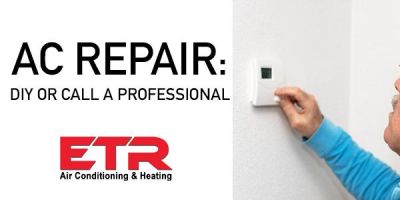 Air Conditioner Repair: DIY or Professional?
It's a beautiful summer morning in Tyler, Texas. The sun is shining. The birds are singing. All seems right with the world until you notice your air conditioning isn't working.
Maybe it's not coming on at all, or maybe it's blowing air that's just not as cold as it should be. By mid-afternoon, the temperature outside will be at least in the nineties, and the temperature inside your home won't be far behind. So, what should you do? It's natural to assume the worst- that you will need an expensive brand-new air conditioner or a completely new AC system installation. Thankfully, that is often not the case.
The problem could be something simple that you can end up fixing yourself. OR it could be something a bit more complicated, but something that some homeowners can still resolve on their own. And even when you must end up calling in a pro, it still might be something minor that ends up costing less than you expect.
Can You Fix It Yourself?
Lately, it seems like more people than ever before are into DIY. With a few tools, a smattering of skills, and a few good YouTube videos, some folks can do anything, but your air conditioning problem may or may not end up being a simple do-it-yourself repair.
The following are a few simple checks that most anyone can do. If your problem can be fixed by one of these, you'll be back in a cool house in a hurry. You'll also save yourself the cost of what could end up being an expensive, unnecessary service call.
Easy HVAC Checks Anyone Can Do
If your AC isn't working at all, check the system's circuit breakers first to make sure the unit is receiving electrical power. If there is limited airflow, or the air blowing out is not cool, there are a few other simple things you can check. Make sure all of the vents in the house are open all the way and unobstructed. Check any air conditioner filters to make sure they are clean and also clear. The reduced airflow from having closed or blocked vents or clogged, dirty filters can result in an iced-up evaporator coil. If the coil ices up, this can stop all airflow and cold air delivery. Check the condenser coils on the outside portion of the unit to make sure they are clean and unobstructed. Clogged or dirty condenser coils can cause a compressor to overheat and even shut down intermittently, causing alternating periods of no cooling and limited cooling.
Repairs You Might Be Able to Do Yourself
If the previous tips didn't resolve your AC problem, and you have a few basic tools, are comfortable working around electricity, and you don't mind spending a little money on a few parts, you still might be able to fix your air conditioning by yourself. Also, if your AC problem DID show up during a time of high heat, you might have to wait a few days for a professional repair technician to get to you.
Fixing it yourself just might get you back up and running sooner and save you the additional expense of the service call. Many online tutorials and videos are available to help walk you through these more extensive repairs. Just search topics such as "do-it-yourself ac repair", "DIY ac repair", "easy a/c repair", etc.
Remember, many AC systems and programmable thermostats have a startup delay. It is activated whenever the unit is completely shut down and then restarted. Wait for ten minutes or more when restarting your system before you assume any attempted repairs were unsuccessful. If the unit fails to restart after thirty minutes or more, it's probably time to call in a professional.
Safety
Attempting to fix your AC system yourself has some dangers. You can cause serious system damage if you do something incorrectly. You also run the risk that you will end up with money wasted and lost time and still have an AC needing repair. But the biggest risk of DIY AC repair is to your safety.
Unless you have the proper skills, have had the proper training, and have the specialized equipment that might be required, you could be putting your life in danger. Electrical connections, gas connections, if you have a gas furnace, and a variety of hazardous chemicals requiring special handling or disposal can all pose a significant safety hazard.
Consider an Ongoing Service Agreement
A properly maintained AC system operating at peak performance is the best thing you can do to ensure efficient cooling and to reduce utility costs and save money. Many HVAC companies offer ongoing maintenance plans to keep your system running at its best.
You might want to consider signing up for an ongoing professional HVAC maintenance program. Such plans usually provide for a bi-annual multi-point AC system check. Most plans include both inspection and cleaning, but many agreements also offer additional benefits. Check for access to 24/7 service, elevation to the top of service call lists, limited overtime charges, reduced diagnostic fees, and significant discounts off refrigerant, parts, and service repairs as well as special pricing for complete new systems when needed.
How to Select an AC Company
Once you decide that you do need a professional to make your needed repairs, there are a few things you can do to help you choose which company to use. Confirm that any company you are considering is licensed, bonded, and insured and ask them how long they have been in business. They should be willing and able to provide you with a detailed written estimate of the cost before the work begins. And also verify that any additional work not included in the estimate will be discussed and approved by you before it proceeds.
Inquire as to what kinds of warranties and guarantees are included. And the company should have a variety of references you can contact to check out other's opinions of their reliability and the overall quality of workmanship. You can also ask them about the qualifications, certifications, and training of the technicians who will make your repairs.
There are a few things that average homeowners can check and maybe fix themselves to solve some common "low cooling" and "no cooling" AC situations. Perhaps even a few more advanced repairs are within reach of a more skilled and experienced do-it-yourself amateur.
However, most of the more complex AC repairs that are so often needed are best left to the expertise of a certified pro. Enlist the services of highly trained and responsive technicians such as those from East Texas Refrigeration (ETR) Heating and Air Conditioning, serving Tyler, Longview, and greater East Texas.
We offer online service call scheduling, same day service, next day change-outs, and the highest customer service in the industry. With industry-leading and Tyler built Trane AC systems, plus Texas-built duct type and split system air conditioners from Daikin, at ETR we can help you beat the Texas heat!