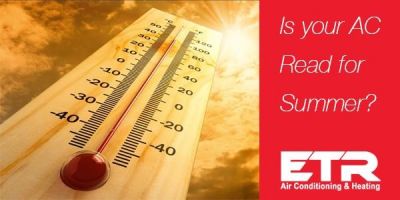 Is Your Air Conditioner Ready for the Texas Summer Heat?
The official start of summer may still be a few weeks away, but the summer heat has already arrived in some parts of Texas. At ETR, we want to make sure your home's air conditioner is ready for the sweltering days ahead? There are a number of things that you can do to make sure that your home's air conditioner is ready and that it won't let you down on the hottest day of the year. There are also some things you can do to help your house stay a few degrees cooler, so your air conditioner isn't required to work quite as hard. The following suggestions and tips just might help to ensure that you and your family can keep their cool on even the hottest days to come.
Get a Pre-Season AC System Check
Regular Air Conditioning system maintenance can make the difference in having a long-lasting, efficient, and reliable system or having one that continually is working overtime to try to cool your house. An AC system check can help extend your system's life while also preventing possible more serious repairs. It will also make sure your air conditioner is operating at peak efficiency to both keep you cooler and to help keep your monthly energy expenses lower. And if your air conditioner is still covered by a warranty, that warranty may require that you follow a professional HVAC maintenance program for it to remain in force. A well-maintained system will last longer, and you will also have the comfort of knowing your system's current state of health.
Start Summer with a New AC Filter
Your air conditioner filter should be replaced at least twice a year, and more often if you are in an area with higher than normal levels of dust in the air. Frequent AC filter replacement is a low-cost way to ensure good air flow throughout the home. Make sure that the new filter is the correct size and airflow rating. Even though they are good at reducing allergens in your home's interior air, avoid air purifying or HEPA air conditioner filters as these will reduce the airflow through your system which may result in freezing of the indoor coil. When installing a new filter, make sure the flow direction arrow on the filter points in the same direction as the system's airflow. If you write the date of replacement somewhere on the new filter's frame, you will always know just how long the filter has been in service and when it was last replaced.
Clean Up Around the AC Compressor
The AC compressor is that part of your home's cooling system that sits outside of your house, and, depending on where it is located, it is often forgotten and frequently ignored. Carefully clear away all accumulated debris, trash, weeds, twigs, and grass from around the outside unit. Then trim back any vegetation and branches to be at least two feet away from the unit to ensure good airflow. Often the pad that the compressor rests on will shift over time so verify that the compressor is level and shim to correct if needed. An unlevel compressor can be a possible cause of an early unit failure. But if yours is a heat pump system, some sloping of the pad can be desirable to permit the run-off of any defrost during the system's winter use.
Consider a System Replacement
Before the heat of summer arrives in full force is a great time to consider replacing an older HVAC system with a new energy efficient unit that will save money on monthly electric bills, often in some cases effectively paying for itself in a short period of time. And the increased efficiency will likely keep your home cooler on even the hottest days.
A new system has the advantage of reducing potential maintenance and repair bills, and it will often come with assorted rebates and other cost incentives that will save you even more. And in addition to having a reduced carbon footprint, a new air conditioner installation will likely improve your home air quality.
Consider Energy Saving Home Upgrades
If you plan to stay in your current house for the foreseeable future, a few other home upgrades such as adding additional insulation and weather-stripping or getting your air ducts sealed, repaired, or insulated could add even more to your long-term savings and to your comfort in the Texas heat. Reflective window tinting can reflect a significant percentage of the sun's heat and keep it from entering your house. Installing and using ceiling fans in the rooms where you spend the most time can make you feel up to five degrees cooler without lowering the thermostat. Make sure to turn them off whenever the room is empty or when you will be gone all day. Replacing an older thermostat with a new programmable thermostat can save you even more, and even something as small as replacing light bulbs with cool LED bulbs can result in small savings on cooling that can add up to significant savings over time.
Don't Overlook Free Ways to Keep Cooler
Closing off any rooms you don't use on a daily basis by keeping the door closed and closing the room's AC vent will decrease the overall amount of living space you are cooling, and just keeping window shades and curtains closed can help keep out daytime heat. Don't use a clothes dryer. Hanging clothes on an outdoor clothesline to air and sun dry on hot days saves electricity and keeps extra heat out of your home. All appliances give off heat so try to run clothes washers and dishwashers at night whenever possible.
Now is the best time to get ready for that hot Texas heat of summer that you know is on the way. Average daytime high temperatures in the months of June, July, and August in Tyler, Texas historically exceed 90 degrees, and more than a few days of 100 degrees plus heat can be expected. While air conditioning is a virtual necessity in Texas, taking all possible steps to keep your home cooler means your AC won't have to work quite so hard, and it will be less likely to let you down just when you need it the most.