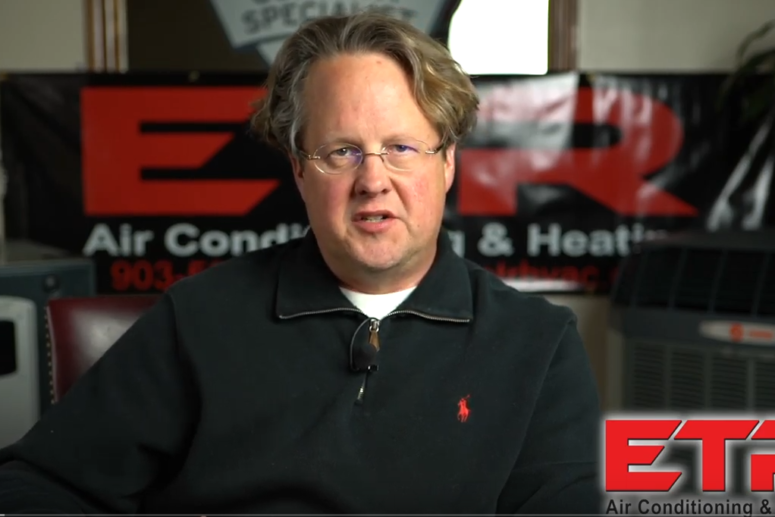 With over 80 HVAC licensed contractors in the Tyler and East Texas area, it can be a daunting task to choose the best one for your AC and Heating needs. At first glance, the one man show, operating out of his truck, may seem to be just as good as the other, larger and more established air conditioning and heating service companies. However, looks can be deceiving and costly.
There are several things to take into consideration when selecting the best air conditioning and heating service company.
For your and your family's safety, you should always select an HVAC company that actively pursues ongoing technical and safety training. At ETR, our team of employees are required to attend bi-weekly training sessions that address the latest in safely techniques, equipment, and technological advances. Air conditioners and heating systems use a variation of high voltage and low voltage electricity, natural gas, and high pressure valves. For safety sake, make sure your HVAC company, techs, and installers are highly skilled and knowledgeable in the latest safety protocol.
Longevity – When you contact an HVAC company, make sure to ask how long they have been in business. Remember, Texas law requires that all HVAC contractors offer a one year parts and labor warranty. Furthermore, most manufacturers offer a 5,10, or even 12 year manufacturer's warranty. You will want to make sure that your HVAC company will be around to honor the warranties.
Check Ratings – BBB Ratings and Google Reviews and Ratings are a great way to get first hand accounts from other customers. Be sure and scroll throughout the reviews, as often times, the negative or bad reviews can get pushed down.
Premium Equipment – You will want to make sure that the contractor carries reputable, quality brands and equipment. Many small establishments or contractors will simply purchase a new unit from a warehouse supply shop. Your HVAC contractor should carry name brand, reputable units directly from the manufacturer. At East Texas Refrigeration, we carry both Trane and Daikin. Both are premium brands that carry industry leading warranties in the air conditioning and heating industry.