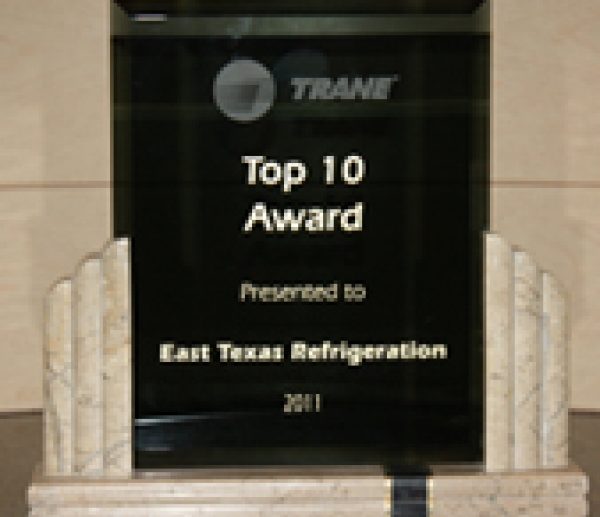 Having a good HVAC Company is so crucial when you live in Texas with its extreme heat and humidity. If your ac unit stops working or breaks completely, replacing and even just repairing it can be a huge financial burden on a family – especially when it is unexpected. That is why you need to be picky when choosing an HVAC company in Tyler, TX.
At East Texas Refrigeration, we have been serving Tyler and East Texas for over 30 years and have become the HVAC Company of choice. Besides our experience in the industry, there are many other reasons to choose us as your HVAC Company in Tyler, Texas.
One reason many East Texas residents choose us is because of our affordable diagnostic rates. If something is wrong with your air conditioner and you call us to diagnose it, we will not charge you an expensive diagnostic fee like many other HVAC companies in the East Texas area do.
We are also a Trusted HVAC Company; we are licensed, bonded and insured and trusted by many people – which is why we are an Angie's List Recommended Contractor, a Top Ten Trane Dealer and have an A+ Rating on the BBB.
We also offer financing – which is a huge benefit when the ac repair or replacement is unexpected and more than you planned for.
We also offer special coupons on our website that you can download and use on your next HVAC service with us.
Thanks, East Texas, for making us your preferred HVAC Company for the last 30 years – we look forward to many more!
*See your independent Trane dealer for complete program eligibility, dates, details and restrictions. Special financing offers OR instant rebate from $100 up to $1,250 valid on qualifying systems only. All sales must be to homeowners in the United States. Void where prohibited. The Home Projects® Visa® card is issued by Wells Fargo Financial National Bank. Special terms apply to qualifying purchases charged with approved credit at participating merchants. The special terms APR will continue to apply until all qualifying purchases are paid in full. Reduced Rate APR: Monthly payments of at least 1.75% of the purchase balance are required during the special terms period. 0% APR: The minimum monthly payment will be the amount that will pay for the purchase in full in equal payments during the special terms period. For newly opened accounts, the regular APR is 27.99%. The APR will vary with the market based on the U.S. Prime Rate. The regular APR is given as of 10/01/2015. If you are charged interest in any billing cycle, the minimum interest charge will be $1.00. The regular APR will apply to certain fees such as a late payment fee or if you use the card for other transactions. If you use the card for cash advances, the cash advance fee is 5.0% of the amount of the cash advance, but not less than $10.00. Monthly payment if shown based on $7,100 purchase.