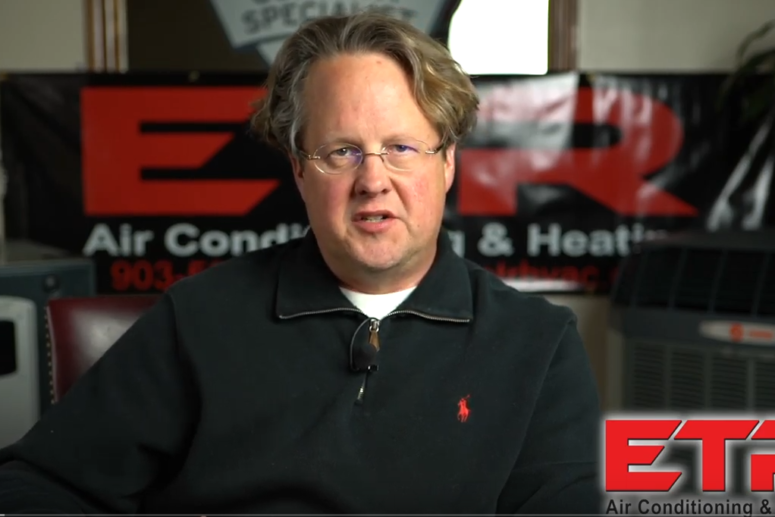 Are you looking for an air conditioner or heating service and repair contractor in Tyler or East Texas? With over 80 licensed HVAC contractors in Smith County, it can be difficult to find the best. Regardless of where you live, there are several things that you should be aware of when you are trying to make the best decision when it comes to your AC and Heating system.
Service Call Details – A reputable HVAC company will charge a flat fee for the diagnostic to be performed on your unit. You will want to make sure that the diagnostic performed is not simply to address the obvious problem, but to look for any other issues that may be contributing to your unit not running efficiently or not running at all. When a diagnostic is done, make sure that the entire system is checked.
Flat Rate Book – As a customer, you should know the flat rate cost for the repair BEFORE the work is done. At ETR, we always show our customers the Flat Rate, and we never charge a commission. Do you not get roped in to paying "by the hour". Always ask for the Flat Rate Book, and if they do not offer a flat rate, find an honest contractor who does.
Ask About Warranties and Parts – A one year parts and labor warranty is required by law in Texas. Make sure your contractor is well established, uses OEM parts, and will be around if you have a problem within a year.
Maintenance Plans – If you check your manufacturer's operator manual, you will find that most brands require a bi-annual maintenance inspection in order to maintain the unit's warranty. A well established, large HVAC company will offer maintenance plans that cover the requirement. At ETR, we offer our customers the Energy Savings Agreement Plan. Our ESA provides a thorough inspection of your units twice a year, priority status for calls throughout the year, and discounts on our services. Make sure your contractor offers a plan and know what it includes. Again, not all contractors are the same.