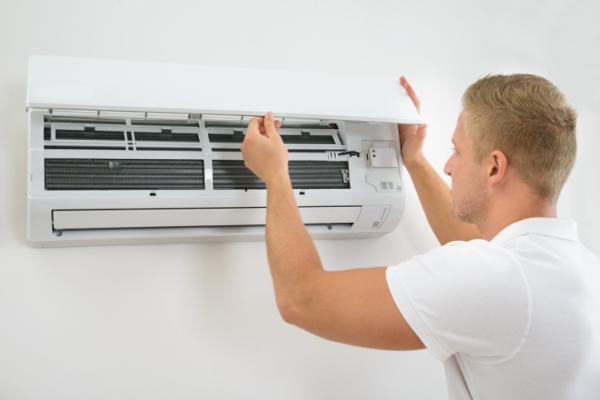 Anyone owning an air conditioner should have a maintenance checklist. A checklist will make it easy for you to check if all the steps required for a regular maintenance have been performed. This will ensure that your air conditioner is performing properly.
Therefore we have created an air conditioner maintenance checklist for you. It will come in handy whether you do the maintenance yourself or you want to assess the work done by your AC repairman…
1. Clean the outside:
Before you open your air conditioner you should clean the outside. This will prevent any dust and particles that have settled on the outside from entering the inside.
2. Clean the inside:
Once you open the air conditioner you should begin cleaning the inside. Give most importance to the evaporator and condenser air conditioning coils as dirty coils reduce efficiency and increase energy consumption.
Also make sure you replace or wash the air filters to get them to do an effective job. This should be done every 4 to 6 weeks.
3. Lubricate parts:
Moving parts like the fan and motor need to be lubricated after being cleaned. Lubrication reduces friction between the parts and makes sure they function more smoothly. This will reduce noise and improve efficiency as your air conditioner will need to work less hard.
4. Check refrigerant level:
The refrigerant level should be just right. Check the level and adjust the amount accordingly. If the level is too low look for leaks as it can be hazardous.
5. Unblock condensate drain:
The condensate drain can sometimes get blocked. Therefore you must check and unblock it if necessary. A blocked drain can have a nasty effect on humidity levels leading to mold growth and water damage.
6. Tighten bolts and electrical connections:
Loose bolts can lead to the vibration and collision of parts; therefore you should give them a good tightening. Do the same for electrical connections to increase efficiency and to get rid of hazards.
7. Check thermostat:
Adjust the thermostat and check if the air conditioner matches the settings.
These are all the steps that should be part of your air conditioner maintenance. Take a print out of this list and follow it when you or your AC repairman is conducting their annual maintenance.